Welcome to the Australian Consulate-General in Chennai
This office is responsible for Australia's Interests in Andhra Pradesh, Karnataka, Kerala, Tamil Nadu, Telangana and the Union Territories of Andaman and Nicobar Islands, Lakshadweep and Puducherry.
This website provides information on the various services of the Australian Consulate-General in Chennai. For more regular updates of our activites visit us on Twitter and Facebook.
Hello,
I am pleased to be Australia's Consul General to South India, based in Chennai - the city that looks across the waves of the Indian Ocean to my home country, Australia. I had a posting in New Delhi from 2008-2011 and am delighted to come back to South India, a region rich in culture, diversity and history.
The Australia-India partnership has never been stronger. As the world faces a challenging time it is remarkable to see how Australia and India are working together towards a globally coordinated response to COVID-19 and to build a prosperous, open and stable post COVID-19 world.
I am looking forward to advancing cooperation with South India under the Australia-India Comprehensive Strategic Partnership. There is much we can do together, including on technology and cyber cooperation. During my time, I will also focus on maritime security co-operation with Southern India, as both India and Australia share a vision of a free, open, inclusive and rules-based Indo-Pacific region. Trade and investment diversification is also an important aspect of our bilateral agenda.
The expanding linkages between our people are enriching all aspects of bilateral ties. The Indian community in Australia is now the fastest-growing of our diasporas, with significant numbers from South India. I hope I have a chance to meet many of you to build connections and work together over my time here.
As a committed advocate for Women in Leadership, I will look to provide platforms to support girls and women in various fields, including STEM, sport, entrepreneurship and leadership.
We are also available to support Australians needing consular assistance. For emergency assistance at any time you can ring 1300 555 135 within Australia or +61 2 6261 3305 from outside Australia or SMS +61 421 269 080.
I look forward to staying connected through my official twitter handle @AusCGChennai and also encourage you to keep up to date with the activities of the Australian High Commissioner to India @AusHCIndia
Best wishes
Sarah Kirlew
Australian Consul General to South India
COVID-19
On 1 October, Prime Minister Scott Morrison announced that Australia is ready to take its next steps to safely reopen to the world, with changes coming to the international border. The government will set out the framework for how international travel will look in coming months. Details ➡️ Next steps to reopen to the world
#AustraliaStandsWithIndia
Australia's support package for India
"India is a great friend of Australia and a comprehensive strategic partner. We share so much in common as peoples, as democratic nations, and we extend our deepest sympathies and condolences and our support to the nation of India and the people of India and the Prime Minister of India, Prime Minister Modi."

— Prime Minister Scott Morrison
On 27 April, 2021 Prime Minister Scott Morrison announced an initial support package for India, standing with India - a friend & strategic partner – to respond to the impacts of COVID-19. Australia will provide India with an initial 500 ventilators, 1 million surgical masks, 500,000 P2/ N95 masks, 100,000 surgical gowns, 100,000 goggles, 100,000 pairs of gloves, and 20,000 face shields, said the Prime Minister in his Press Conference. Details ➡️ Press Conference | Prime Minister of Australia (pm.gov.au).
So far, Australia has delivered over 30 tonnes of essential medical supplies, including 3,000 ventilators and 250 oxygen concentrators to India.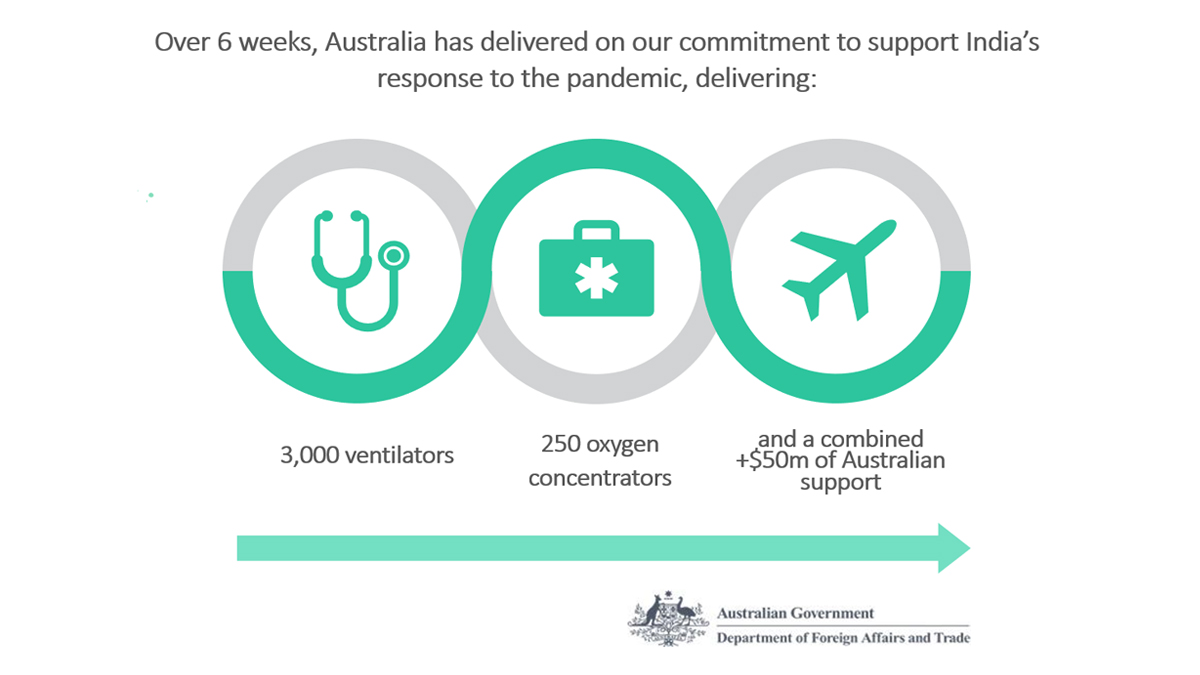 Important updates for those wishing to return to Australia
National Cabinet announced that from 14 July international passenger arrival caps will halve. This reduction will remain in place until 31 August and be reviewed before being lifted.
Key decisions announced at the Australian National Cabinet meeting on 05 January 2022 - National Cabinet | Prime Minister of Australia (pm.gov.au)
Important information for Australians
For up-to-date information on India, please refer to the Smartraveller website.
We can all help slow the spread of COVID-19. To protect yourself and others you must:
If you need urgent consular assistance (for example you have been attacked, arrested) please call the Australian High Commission in New Delhi on +91 11 4139 9900, or the 24 hour Consular Emergency Centre on 1300 555 135 (within Australia) or +61 2 6261 3305 (from overseas).
Register with us for updates
If you have not yet done so, please register with the Australian High Commission: https://covid19.dfat.gov.au. If you have already registered, please ensure your details are up to date. Please include as much information about your personal circumstances as possible, including when you are intending to return to Australia.
Contact Information
9th Floor, Express Chambers, Express Avenue
49, 50L Whites Road, Royapettah
Chennai 600 014
Tel: +91 44 4592 1300
Fax: +91 44 4592 1320
Email: (General Queries) [email protected]
If you would like to be informed of any upcoming events and initiatives organised by the Australian Consulate-General kindly send us an email to the email address mentioned above with your contact details.
The Australian Consulate-General in Chennai does not provide any assistance with regards to Australian visas or Australian citizenship applications which are processed in New Delhi by the Department of Immigration and Border Protection.