Direct Aid Program (DAP)

Andhra Pradesh, Karnataka, Kerala, Telangana, Tamil Nadu, Puducherry, Andaman & Nicobar Islands

The Direct Aid Program (DAP) provides small grants for activities that support development and strengthen communities in India. It also builds linkages between Australia and communities in India.
The Consulate-General in Chennai supports small-scale, sustainable development projects in the South Indian states of Andhra Pradesh, Karnataka, Kerala, Telangana, Tamil Nadu and the Union Territories of Puducherry and Andaman & Nicobar Islands with grants averaging INR 10 lakhs.
Australian Consulate-General's Contribution to Chennai Flood Relief
The Australian Consulate-General provided funding to World Vision India to provide emergency relief kits to over 200 families affected by the recent floods in Chennai through its Direct Aid Program. The Consulate-General also supported the flood relief efforts of the Indian Red Cross Society and CARE India.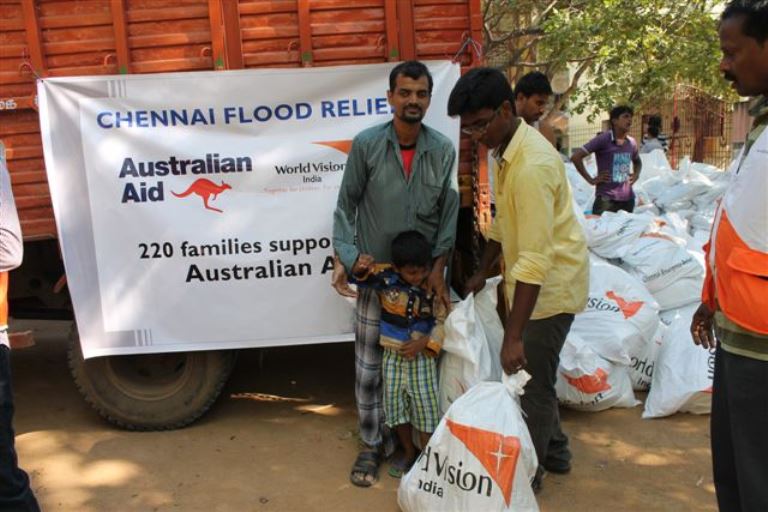 Some examples of past projects funded by the Australian Consulate-General in Chennai include:
Road Safety and Emergency Response Training to Auto-rickshaw drivers through Autoraja and Makkal Auto

The Australian Consulate supported a program led by Autoraja Mobility Solutions and Makkal Auto in partnership with Shawsett Training and Safety- an Australian training partner with a focus on reduction of the amount of road accidents in India. Under the program, about 500 men and women from disadvantaged backgrounds will be trained to become drivers of auto-rickshaws (tuktuks) providing them with the means to gainful employment.
The Australian High Commissioner to India, Mr Patrick Suckling, flagged off the training program in Chennai on 9 September 2015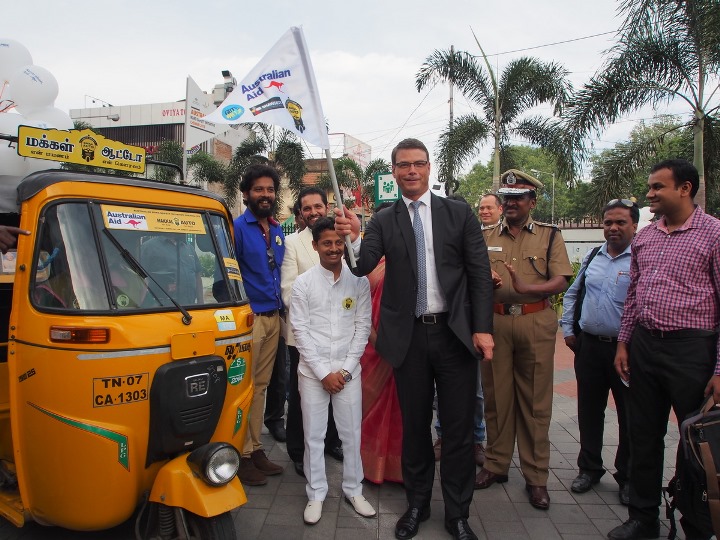 India Vision Institute: Vision Screening & Free Spectacles for Underprivileged School Children
The Australian Consulate-General in Chennai funded a vision screening program led by India Vision Institute under which nearly 10,000 disadvantaged school children under the ages of 4 and 15 from different parts of South India had their vision screened and students diagnosed with refractive errors were provided free spectacles. India Vision Institute is a joint initiative of the LV Prasad Eye Institute of Hyderabad and Brien Holden Vision Institute in Sydney, Australia.
Australian Minister for Foreign Affairs, the Hon Julie Bishop MP distributing glasses to children during her visit to Chennai on 15 April 2015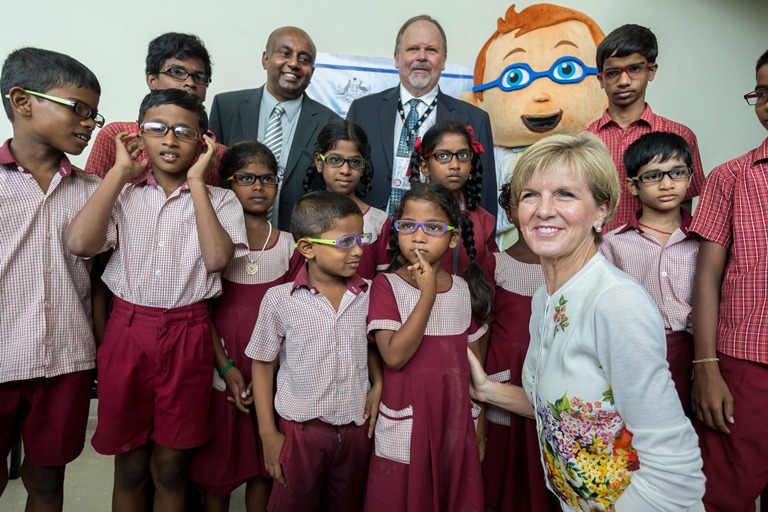 Penn Nalam- 'Women for Women Wellness Centre': Computerised Radiography Facilities to Detect Breast Cancer
The Australian Consulate-General in Chennai provided funding for Penn Nalam to provide disadvantaged women access to computerised radiography facilities to detect breast cancer. Penn Nalam is an organisation that works to improve cancer awareness and cancer prevention through timely screening and providing cost effective treatment.
Rashtriya Life Savings Society (India): Save A Young Life Program
The Australian Consulate-General in Chennai funded Rashtriya Life Savings Society (India) to provide neonatal cardio pulmonary resuscitation training to community members in Bangarapet town in Kolar district, Karnataka to reduce infant mortality.

What sort of projects do we fund?
We welcome high quality applications that will support development and strengthen communities in South India across all sectors. In particular, the Consulate- General will focus on projects in the areas of: community health; education, training and capacity building (with a strong focus on governance and human rights); environmental sustainability with a development focus (irrigation, urban planning and rejuvenation and water conservation); women's empowerment and gender equality; road safety; and small-scale infrastructure projects.

Regardless of the type of project, all applicants should consider the impact of the project on women, children or other disadvantaged groups, such as people with disabilities.

The proposal should contain measurable performance indicators.

Projects should be self-sustainable. Applications should demonstrate a commitment on the part of local authorities and/or beneficiaries to implement and sustain the project beyond the term of the grant. You must demonstrate the ability to meet ongoing costs of the project or program after the term of the grant.

Recipients of DAP funds are expected to make a reasonable contribution of their own to the activity in either cash and/or kind. The type and level of contribution must be indicated in the project proposal.

Who is eligible to apply?
DAP funding is available to individuals, community groups, academic institutions and NGOs engaged in development activities on a not-for-profit basis.
For project proposals in India: To receive a DAP grant, all organisations must have current Foreign Contribution (Regulation) Act (FCRA) approval.

What funds are available and how can they be used?
Grants provided are typically around INR 10 Lakh and at least 90 percent of the value of the grant must directly benefit the target community. Grant funds cannot be used to pay NGO staff salaries, and only a small margin (less than 10 percent) can be allocated to NGO running expenses. Partner organisations must meet some of the project costs with their own funds or in-kind support. Organisations are allowed to submit more than one project proposal in one funding round.

How long can the project run for?
A DAP grant cannot exceed two years, although funding can be granted on an annual basis.

Expectations for accountability, transparency and reporting

We require a high degree of transparency and accountability in any project. Proposals must demonstrate that the risk of wastage, administration costs and other costs not delivering direct benefit to the target community will be minimised.
Should you be successful, you will be required to:
• Sign a contract with us specifying the terms and conditions of the grant
• Provide an electronic copy of your application
• Keep full financial records of all expenditure (including receipts)
• Submit a progress report within six months of receiving your funding and
• Submit a full financial report on completion of the project
• Where possible, allow and facilitate a visit by Australian representatives to the project site.

The completion and timeliness of this reporting is essential.

What DAP funds cannot be used for

DAP funds cannot be used to directly fund micro credit schemes. Grant funds cannot be used to fund salaries of NGO staff. Less than 10 percent of the grant can be used to cover administrative costs for the program, including for example, electricity bills or office rental.

The funds can only be utilised for purposes agreed upon by the DAP grant recipient and us. If your project changes as it is implemented any reallocation of grant funds must be submitted to the respective DAP Committee for re-approval. Unused funds must be returned at the end of the project.

No additional funds will be provided for the same project year on year.

Building or construction related projects should meet Australian standards. Asbestos must not be used as a building or construction material.

How can we apply?

Please send your completed application to: ChennaiDAP@dfat.gov.au

In your application, please take time to:
• Clearly explain the objectives of the project and who will benefit
• Provide a clear description of how the project will be implemented
• Detail what practical experience your organisation has in successfully implementing similar projects
• Provide a clear, itemised budget of realistic and reasonable costs
• Include contact details (including e-mail addresses) of referees and previous donors who can speak positively and knowledgably about your organisation
• Explain how you will acknowledge the source of funding (you may allocate a small amount of funding to help badge your program as Australian Government funded, e.g. stamping donated books or media outreach)
How will I find out if my application is successful?

We receive a high volume of excellent quality applications and we take the time to consider the merits of each.
Only those organisations whose projects are short listed will be contacted. If you have not heard from us within six months of submission, please consider your application unsuccessful.

Other important information:
Your application will be highly regarded if:
• It uses the correct application form (available below)
• Clearly explains the objectives of the project
• Provides a clear, itemised budget of realistic costs
• Clearly sets out who will benefit from the project
• Is accompanied by contact details (including e-mail addresses) of referees and previous donors who can speak positively and knowledgably about your organisation.

The project should be identifiable as being sponsored by the Australian Government – you must let us know how you intend to meet this requirement. A small amount of funding may be requested to help badge your program as Australian funded i.e. by erecting a plaque, using stickers, or stamping books as donated by the Australian Government.

Direct Aid Program- Application Form 2016-17